Updated July 27, 2023 I have been trading for 18 years but I have only gone through three desks. The first one I bought from a "going out of business" sale at a local furniture store. The second one I got from my old job and my most recent upgrade is a standing desk that I bought online.
I recently canvassed the traders in the chat room and in this article, I am going to tell you what the top 5 desks are based on the reviews of 800+ traders. My intention is to put together a nice guide that will help you save time and make a good decision.
So here goes:
Disclosure: This post contains affiliate links and this website may earn a commission if you use the link to make a purchase.
Desk Number 1: Vari Electric Standing Desk 60″ x 30″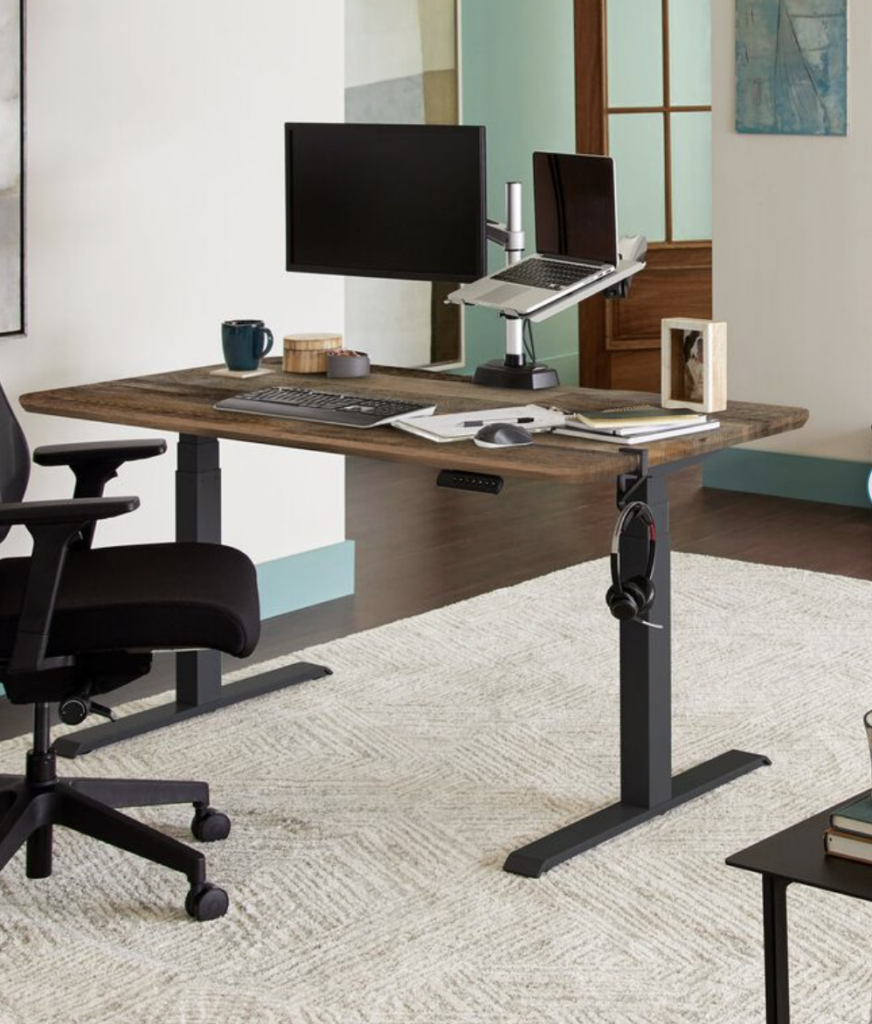 Size
This thing is just a beast and comes in at 5 feet long and 2.5 feet wide. More than enough space for about multiple monitors and a keyboard …even better if you have a laptop instead of a desktop. And don't forget the space you will have underneath the desk which is enough to store a small bookshelf of micro-fridge. Or it could just be a cool place for your dog or toddler to hang out in during the trading session.
Functionality
The key feature is the ability to quickly adjust the height of the desk with just a simple touch of a button that set in a nice neat package right there on the desk. This is a big deal based on the fact that most standing desks used to have that function literally hanging off the side of the desk.
Durability
This desk is very sturdy. It is built like a tank and even though the material that covers it can get scratched you would probably really have to go out of your way to do it. Secondly, just the way the parts are put together it really doesn't have any thing dangling or sticking off it that could break easily.
Looks/Aesthetics
It has a simple, clean modern look and you can sort of see the quality (if that makes sense). So it shouldn't really take too much effort to decorate the whole room around it…if thats your thing.
Assembly
This thing is heavy so you will need to set it up in the room that you are using it to avoid dragging all that weight from room to room. Apart from that, set up/assembly is a breeze and will be fairly easily especially if you have one more person to help out.
Conclusion: Best all around desk. You can click here to check out all the specs and the price on Amazon
Desk Number 2: Hbada 55 Inch Gaming Desk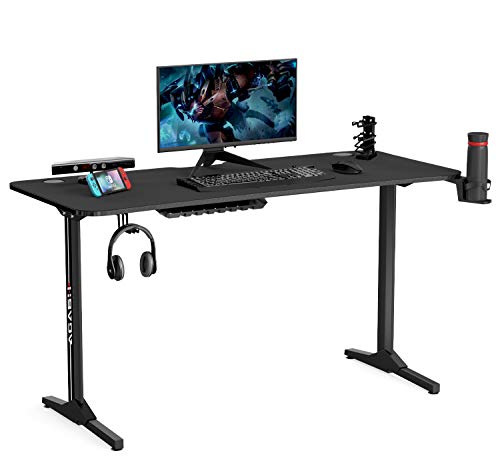 Size
This desk clocks in at 4.5 feet x 3.5 feet so it pretty standard in terms of its surface area. It is also standard in terms of its weight at just under 48 pounds.
Functionality
This desk was built for gamers but, as you know, as traders our use cases and habits are very similar to gamers so the decent size surface area, leg room and smart adjustable features are right up our alley. The cup holder is also a nice touch and it carries nicely mounted cable manager so there won't be any wires and cords hanging all over the place.
Durability
It has a Carbon Fiber finish. I could literally stop there right? Carbon finer is a beautiful and very resilient material so this desk was basically made to take a battering. It also has a unique "T" shaped design which the manufacturers claim make it ore stable and puts in a position to carry more weight that normal desks.
Looks/Aesthetics
The "T" design is very beautiful to look at from any angle and the carbon fiber finish gives it a sort of futuristic glow. However, for these very same reasons it will not blind well into a room with traditional or antique type furniture, so just keep that in mind.
Assembly
The assembly is fairly easy but it can get a little tricky if you do not organize the parts, tools and fasteners before you start putting it together. Once everything is in place it should be a reasonably quick easy job.
Conclusion: This is best mid-range budget option. You can click here to check out all the specs and the price on Amazon
Desk Number 3: Bush Cabot "L" Shaped Desk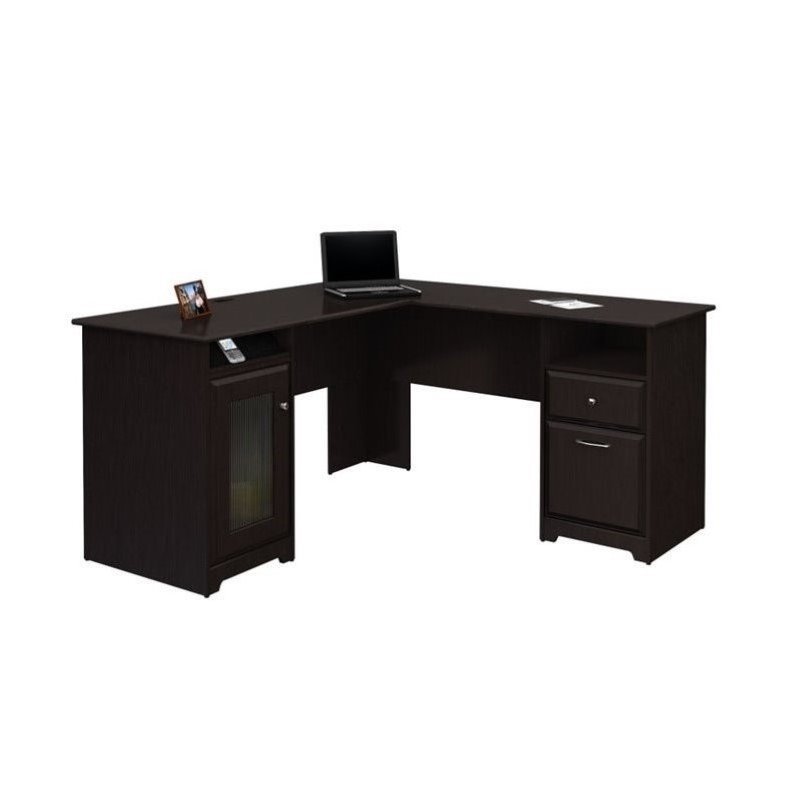 Size
You are going to get about 5 ft of total workspace with this desk and it should come in around 77 pounds or so. It is just enough to take up the corner of a standard size room without seeming too imposing or out of place.
Functionality
The "L" shape allows you to split your tasks, for instance you can have your trading screens up on one end and have your laptop open on the other end so you could easily swivel from Trading to doing other stuff . It also comes with in-built USB ports which is a very nice touch because it makes connectivity, charging and everything else you do with USB ports far more convenient.
Durability
The fact that this desk takes up about 5 square feet but only weighs 77 pounds should have given you some clue as to what type of material it is made of . It is made of particle board but the finish that is put on top of it gives it a sort of classy look. So you will have to handle it with care because particle board tends to scratch and break easily.
Assembly
When you open the package you will be taken aback by the number of pieces and the many different types of screws and other fasteners that it comes with because it is A LOT. However, if you just decide to settle in, read the instructions and organize all the parts before you get started, you can make light work of it.
Conclusion: This is the best desk if you have a lot of space. You can click here to check out all the specs and the price on Amazon
Desk Number 4: Coleshome 47 inch Computer Desk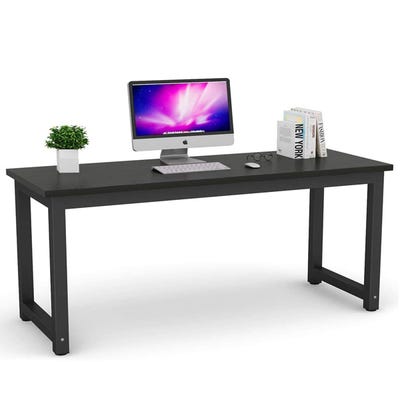 Size
This desk comes in several sizes but we are checking out the 47 inch because, according to the folks in the chat room, it presents the best value for money. So with this unit, you are looking at just under 4 feet of surface area and a weight of about 26.9 pounds so this is the lightest of the lot so far and is the perfect size for a small room.
Functionality
There are no bells and whistles on this unit. Just a solid small desk that is built to carry more weight than what it seems fit to do.
Durability
The metal is high quality and the surface is scratch proof and waterproof so it should be able to take some amount of wear and tear with normal use cases.
Looks/Aesthetics
This desk has a clean, modern, minimalist look so it won't be the centerpiece of any room but will safely and reliably hold your computer screens which is what you want right? 🙂
Assembly
Putting this thing together is a breeze and can take as little as 15-20 minutes if you have all the parts and fittings organized ahead of time. You need to be careful though and try not to "over tighten" the screws as they can cause the surface to split a little bit.
Conclusion: Good quality for the price. You can click here to check out all the specs, details and the price on
Desk Number 5: SHW L-Shaped Corner Desk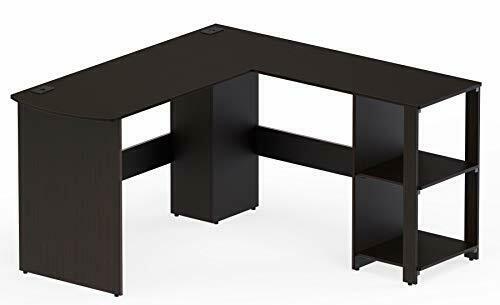 Size
This is what I would call a medium desk that will give you about 4.5 feet of surface area and comes in at just under 40 pounds. Definitely not a space hog and should fit nice and snug in any corner of a standard sized room.
Functionality
Just like the other L shaped desk on this list, this one also allows you to stack your screens on one side of the L and use the other side of the L for lighter work. The stabilization bars in the back are also nicely placed so you can stretch your legs all the way out or even put your feet up on it, if that is your thing. Other than that, this is a plain simple desk with no fancy add ons like USB ports etc.
Durability
Despite the size, this desk is quite sturdy and even though it is made of engineered wood it doesn't really feel like it. It actually feels like it was made from a higher quality material. Just handle it with care and it should last a while with normal usage.
Assembly
There aren't that many parts so it should take no longer than 20 minutes to put this desk together once you have the parts and fasteners organized. Just be careful handling the pieces that will go in the back to stabilize the desk as you can chip off the edge if its dropped too hard.
Conclusion: Best unit if you have a tight budget. You can click here to check out all the details, specs and the price on Amazon