The trading world was buzzing with talk last week after it was revealed that Michael Burry had put on some big short positions in anticipation of continued weakness, or a possible fallout, in the market.
Burry, is famous for his big win shorting the housing crisis back in 2008 and he has not been shy about talking his book in recent years.
Michael Burry's Wrong Calls
Here is a list of market calls that Burry has gotten wrong in recent years:
December 2015 crash call: In December 2015 he was predicting that the market world crash. He said the cause would be contagion from a possible Chinese Real Estate fallout given the proliferation of Ghost Cities and the debt that went into building them. His 2015 prediction was made when the S&P was trading around 1930 and 12 months later, in December of 2016, it was trading at around 2236. That is 15.85% higher than when he made the call.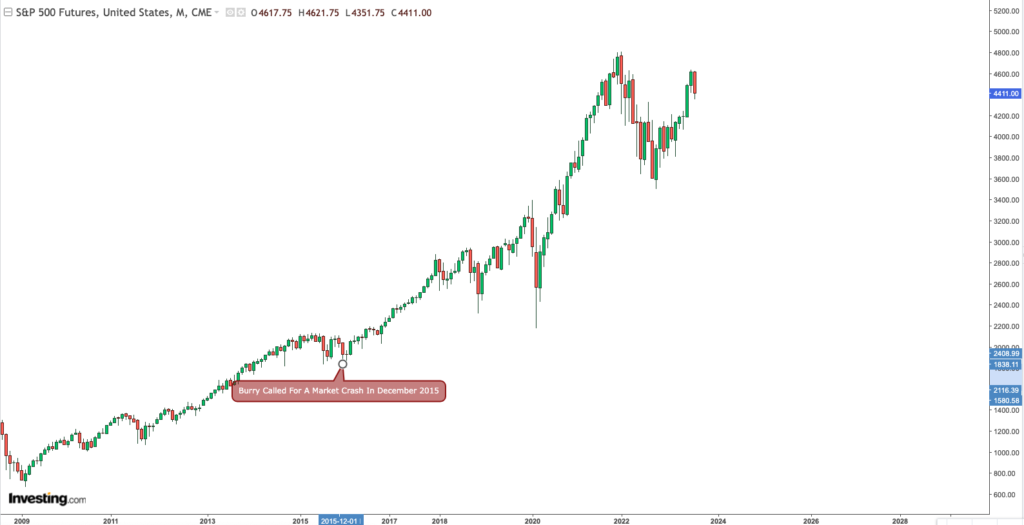 May 2017 Financial Meltdown Call: In May 2017 he called for a global financial meltdown based on what he said would be a debt crunch as countries and businesses and individuals would struggle to service their debt and this would create a domino effect that would, in turn, trigger a crisis.
He made this call when the S&P was trading around 2385 and about 12 months later it was trading around 2700. That was 13.2% higher than when he made the prediction.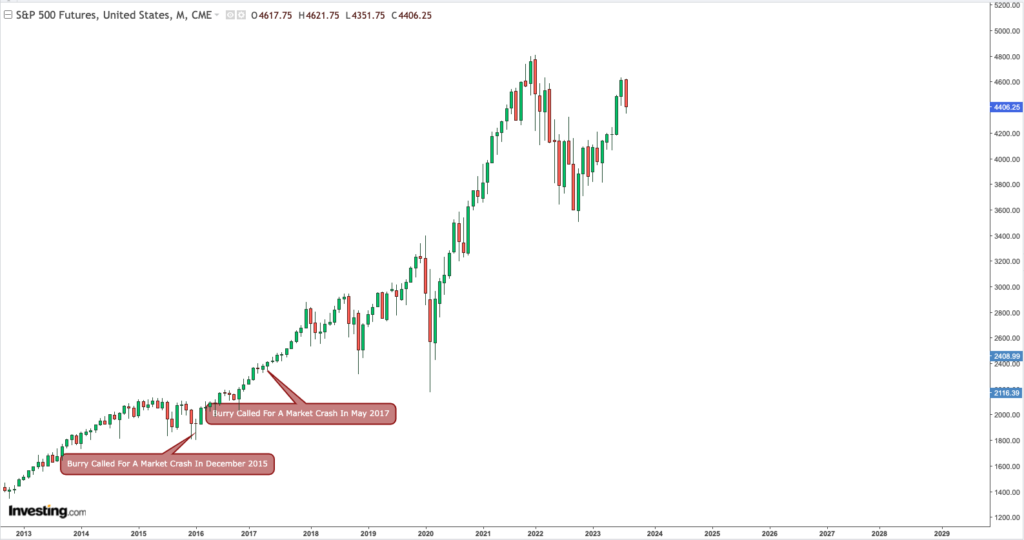 His September 2019 Crash Call: This time the call was based on what he thought was a massive bubble in the Index ETFs that were popular at the time.
The prediction was made when the S&P was trading around 2960 and it did break lower by February 2020 at the outset of the Covid lockdowns but, as we all know, we rallied hard out of the Covid Crash and by September 2020 it was trading around 3400. This is 14% higher than when he made the Call.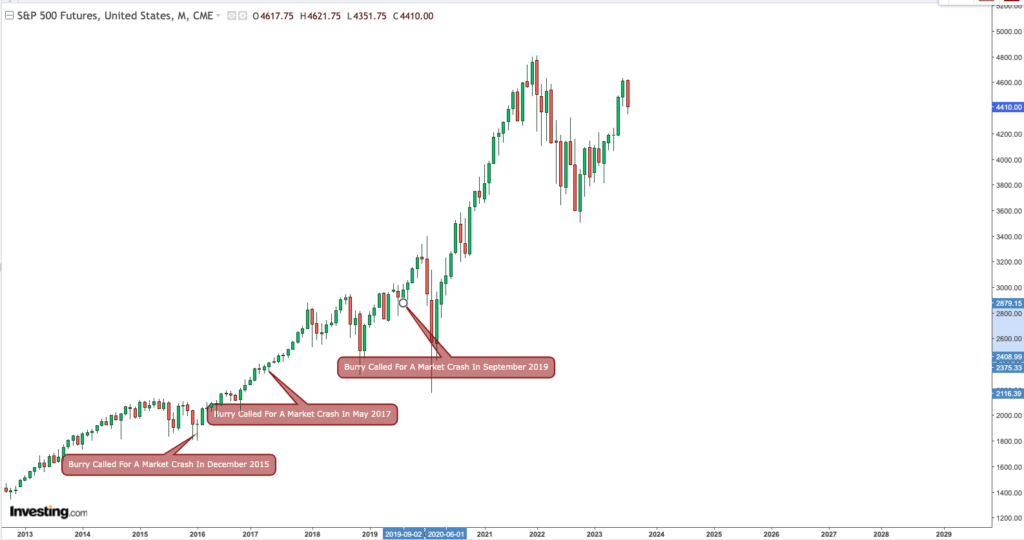 In March 2020 He Called For More Downside & Placed A Big Bearish Bet: This was during the midst of the pandemic and shortly after the big February sell off. In fact the market was trading around 2570 and 12 months later, by March 2021, the market was trading at 3906. This was 51.98% higher than when he called for the crash.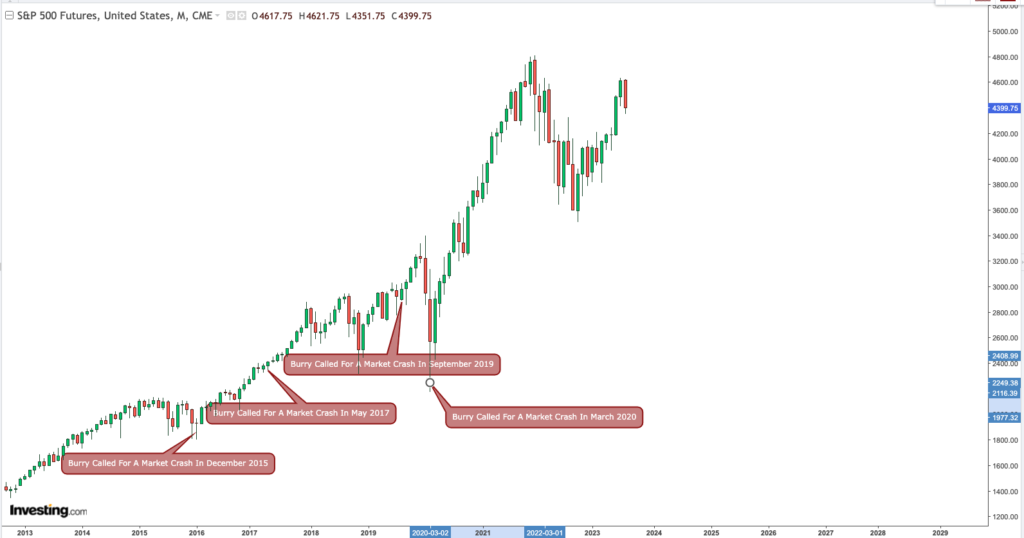 In February 2021 he predicted that the market would crash: This was due to what he thought were bubble like valuations and even went short some big tech stocks ,including Tesla (TSLA) at the time. This call was made when the market was trading at 3743.
A year later the market was trading at 4455 and had logged a 19% gain since he made the call.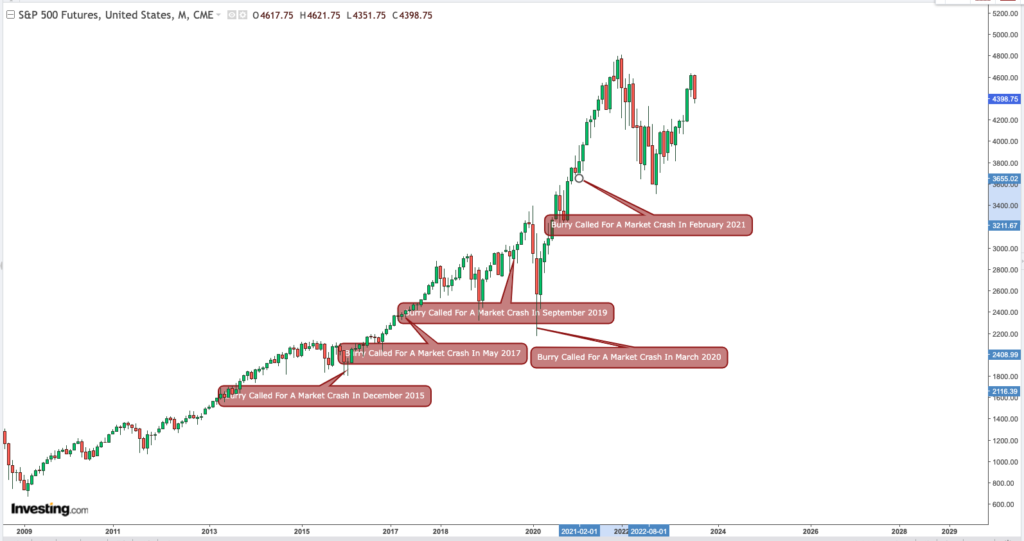 September 2022 we saw another big bear call by Burry: This time we were in the midst of another sell off and he warned that the bottom was not in as yet and that there would be more bank failures.
This call came when the market was trading at 3690 and we are now nearing the one year mark ( it is now August 2023) and the market is trading at 4405. That is 19% since the prediction was made.
Michael Burry's Most Recent Prediction & Track Record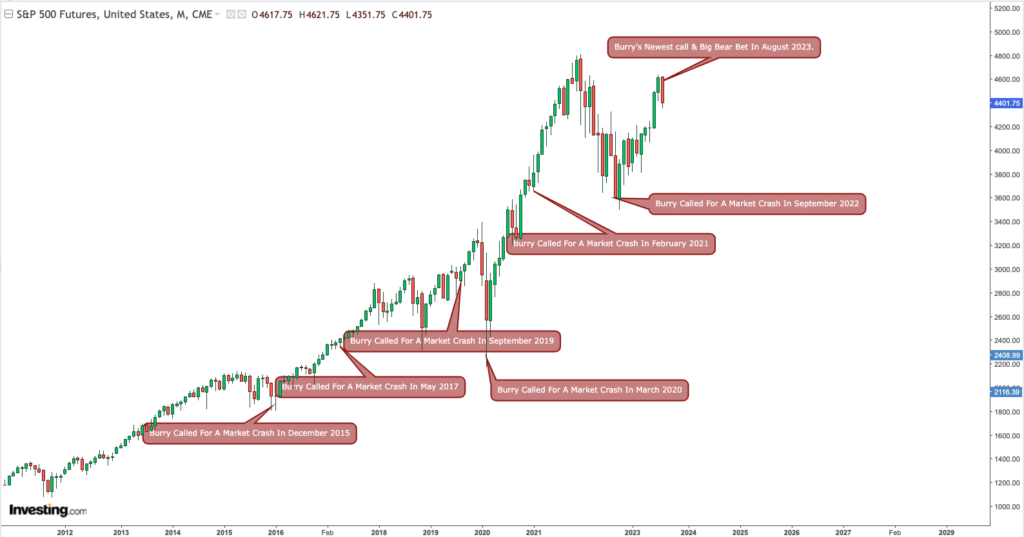 Now we have this most recent bear call from Burry that we will need to keep an eye on. As mentioned, earlier, he recently put on a sizable bear bet using Puts.
Please note that by highlighting these calls I am not trolling or taking a swipe at Burry. The man is a legend and has made a lot of money over the years. Besides, it is almost certain that he is hedging these positions when he takes them and may very well be in a position where he loses very little or even makes money when he gets the call wrong.
Thanks to Adam Koo for pointing this out initially. You can also check out other traders like Mark Ritchie, Patrick Walker, Michael Huddleston of ICT and and their strategies here at Stocks & Futures Trading.